2018 Interior Trends you will love or hate
Well each year we come a cross some new Design Trends we will either love or hate, or we might just as well enjoy looking at beautiful pictures created in order to promote these trends but wouldn´t even dream about opening our door for them!
1.
In the moment that Pantone announced the color of the year 2018, I heard far more "hate" comments about: Ultra Violet 18-3838 than I have ever heard before about any other color. But hey, don´t they say in Hollywood: "Even bad publicity is good publicity!" ? So, it will be interesting to have a look at our perception towards this color at the end of this year – we might be surprised!
Have a look at how this color pretends to concur our living spaces!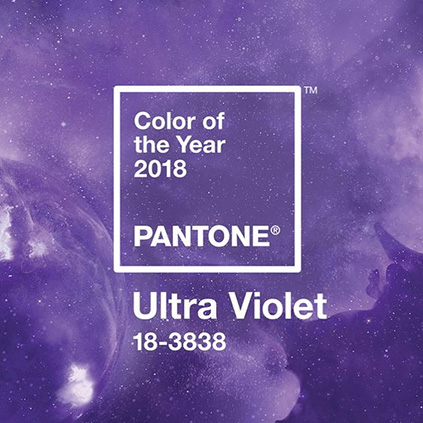 2. + 3.
To the contrary here a trend which will be far easier to digest: Plants are creeping their way back indoors: "Large scale florals and botanical references combine to transport us to forbidden gardens within our own rooms. " Elle Decor
Personally I am not at all into florals in any form or shape other than real flowers, never the less I adore green botanical leave prints and wall paper! Let me know if you love or hate this trend, ok?
4.
All white and grey rooms, furniture and decor has been synonym for elegant, minimal and sophisticated beauty throughout the last years. Even the Scandinavian Style has turned into an absolute classic and is sure meant to stay, last autumn bold dramatic colors pretended to bring a radical change. (check out this previous post) However a 180º turn needs it´s time. Never the less strong color accent furniture will be noted everywhere this year. Have a look at these beautiful pieces and if you dare go mixing those colors and you will be right in tune with this years Trend predictions! :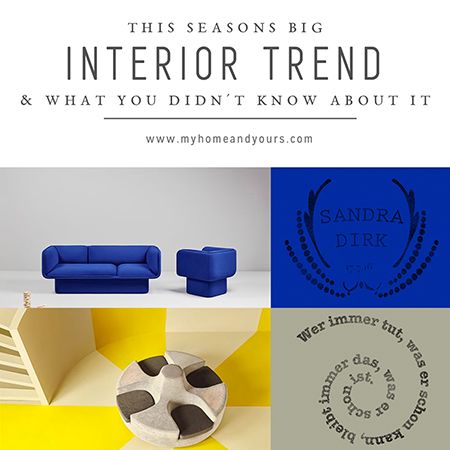 5.
Beige and Brown is back, too! Lucky for all those who did not decide to go with all white and grey. Haha This time blush pink is added to it with dark pine green. And I must say, even I´m a bit surprised about myself, I like this natural blend. It feels cozy and welcoming!
6.
The Global Nomad becomes trend once again! Exotic arte facts, hand crafted textiles and black-white tribal patterns, will blend in with jungle patterns, earthy colors and worn timber. Are you tired of this trend, or happy to see it back?
What decor trend will you be following? Which to you hate and which do you love?
Post a comment on my Instagram @myhomeandyours_ or Facebook page @myhomeandyours
I would love to hear from you!
p.d.: All images are linked to my pinterest folder, where will fid the respective origins