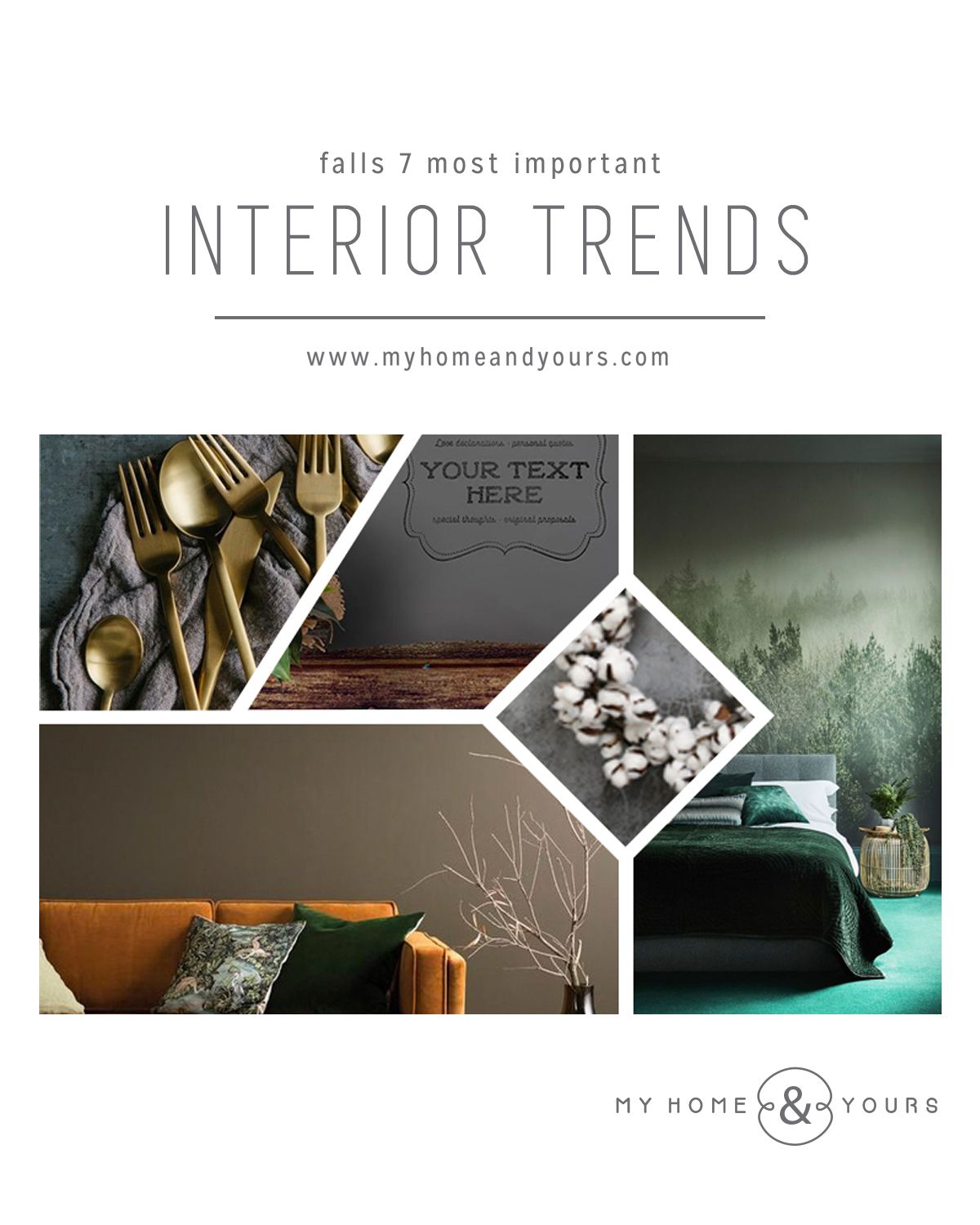 This Falls 7 most important Interior Design Trends
Fall is giving us the first taste of what´s to come – leaves are changing it´s color and soon they will be all gone!  But as the weather shifts from summer to fall, it can be fun (and not to mention easy and cheap) to make a few changes to your house as well. Time to prepare our homes from the inside, make them cosy and warm, a refuge for the winter to come. 
I scoured stores and Pinterest and checked through the opinions of industry experts in order to find inspiration for the change of the season and its interior trends. So let´s go ahead and get inspired!
Dark Green
The leaves outside may be changing, but inside, things are remaining green. Accents in brass and cream, as well as natural wood can bring the coziness for fall and winter inside.
Dark paint
I have to admit I still like the clean white and grey, but experts seem to shout that this trend is coming to an end – at least for this autumn winter season DRAMA is the key! Add chocolate brown for this luxury feel which will dominate this season!
VELVEt
This soft material feels and looks so luxurious and at the same time combines so well with rough and natural textiles, like reclaimed wood, handmade pottery or simple cotton. Place a velvet armchair into the room and give it a new highlight, or for smaller budget changes, combine a beautiful velvet cushion with some lovely color matching quote pillow.
BLUSH PINK
I used to hate pink – haha – but this year I became a big fan! Even in interior design you will see it more and more – always as color accents, but they it is such a soft and comforting color, you really should try it. And it´s now, in autumn and winter when we will need this comfort feeling the most in our homes!
Brass
Brass supposedly substitutes copper this season – but never mind this exact trends, any of these warm metals in lampshades, cutlery or any other small places will give your home this little touch of luxury, that will make you feel so right at home that you want to invite others to be home with you!
matt black
Ultra matt and black – a super masculine combination, but a true winner this season. I love the graphic look of it and you can realy add any color highlight to it to give it a seasonal change! This could well be a classic to stay. May be not just as extreme as in the below examples, but never the less it´s essence.
faux finishes
The offer on faux finishes is becoming bigger then ever – which helps us all to follow our trends with out big regrets. Finally we are able to get some beautiful floral flor tiles or patterned kitchen back splash (https://www.quadrostyle.com/) faux flowers and plants that don´t need to be looked after and flower throughout winter and the rest of the year (https://shop.magnoliamarket.com/collections/florals) or you might even instal some of the many wooden beams on offer in your local hardware market – you might be surprised how real they look nowadays. 
So get down to making some smaller or bigger changes towards a more cozy home for this autumn winter, but please stay always true to what feels right for you and your own home!
And be it "just" a new custom cushion with a quote that helps you dream of summer, while tempratures are slowly dropping outside 😉
For more updates and goodies follow us on: