Interior Colors – Red – where & how
This color series hopes to demystify a bit the color psychology and the adequate use of color in our homes. 
At the beginning of this autumn winter season I mentioned in the post: "This seasons biggest interior trend & what you didn´t know about it", that
"This seasons biggest interior design trend is all about color! Not only color accents, but full color as such. Color drives almost 90% of all decisions we make and influences us in how we feel, what we decide and do and finally also how we do it."
With this in mind I believe it could be very interesting to know a bit more about each color. 
We spoke about Orange last month and this month we will give RED it´s turn.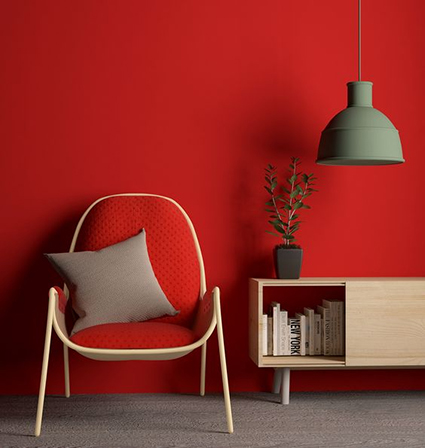 Red is a warm color, full of passion and drama, it´s dynamic, energetic and powerful, stimulates appetite and draws in attention.
10 words that describe the color psychology of red the best:
love + passionate   energy + powerful    excitement + attention strength  +  courage   dramatic + dangerous
But what does all this mean in respect to the interiors of your home?
While bright red can heighten the senses, earthy red tones create warmth and comfort. 
So red could well be the perfect color for a dining area.
Use it as an accent on one wall, or on some objects …
… or through an art work which will turn this corner of the room into a focal point.
As a general rule, use red minimal, as on it´s own it can be over powering! However adding cool or neutral colors can balance this effect.
A bedroom is great in neutral and realxing colors, while red accents can add this little bit of spice and excitement for romance you might be looking for.
NOW WHICH COLORS WORK TOGETHER WITH red FROM THE INTERIOR HOME DECOR POINT OF VIEW?
Grey in all its shades, is a winner since a few seasons already and it keeps up strong. The combination of grey with red accents works particularly well!
Charcoal with beige, burgundy and bold bright red is a fantastic combination. It´s elegant, classy, yet contemporary!
Slightly away from trends and fashion, please keep the above in mind as an inspirational guide only and always tap into your own mind, spirit and needs. Feel there how you react to each color from the inside and go for what feels right for you!
And please remember, all of my Home and Yours cushions are available in 9 colors, one of them a beautiful bold red that can just as well wear your own words.
The offer is valid for a limited time only! (until 6.12.17)
So don´t wait for a last minute gift, but check out which styles are the ones for you!
Find the full collection here.