The 30 most chic & stylish easter eggs ever!
I know, there is still a little bit to go till Easter, but hey this year you want to be prepared to get this DIY projects going on time! So for this post I decided to skim the best ideas for making your easter eggs the most chic & stylish ever!!! Yes, it sounds ambitious, but have a look and you´ll agree, it´s all in the ideas, as the actual making of these precious decor pieces is easy peasy!
So have a browse, choose your favorite and use a lazy raining Sunday afternoon to get down and creative! You might just as well get your kids involved, as they just adore simple crafty projects!
Happy Easter Egg DIY everyone!
Let´s start with some glamour! This season gold and brass decor details are really big, so let´s give your eggs also a touch of luxury!
Paint your natural eggs (without dye!) with a bit of glue and dip into gold glitter and voila – glam eggs!
Just as simple and effective: gold permanent ball pen – here applied as if it would be dripping paint, but you can let your imagination go wild!!! By the way, I´d like to see your results! Please post them to me and I will publish them below. 
Before using the golden permanent sharpie, die them turquoise or any color which bests complements your home, as matching colors will make them work so much better!
Totally stunning marble effect, 100% natural and sooo easy to do! Just mix grape juice and white vinegar 1:1 and let the eggs sit over night in their color bath. Then gently dry them with a paper towel. If you want to do the bronze eggs, simply spray paint the eggs 😉 Looks harder then it is, right? So come on and surprise them with your DIY skills. 
Die the eggs pink and once they are totally dry, tape them off with masking tape and use golden paint. Done! Hugely effective! I just love them. What would be your favorite base color?
Can´t decide which one to do? Well have fun with mixing all the techniques here mentioned – looks great like this too!
Concrete is absolutely hip, so why not make your very own concrete easter eggs. Just empty the eggs with a medium size hole at the bottom and then fill it with the creative concrete mixture (you can find them in any DIY store or online on amazon) let them dry for a day and peel off the egg shell – ready! Mixing them with some color or gold painted versions will make them stand out even more!
Similar to the ones already shown are these color painted beauties! Paint with your favorite colors first, let dry completely (very important!) then tape off with masking tape the parts where you want to keep the actual color. Paint over the rest and let dry completely again. Repeat if you want to use a third color on the same egg. It might take a little longer because of the drying time, but the actual level of difficulty is almost down to cero and the results will be fantastic!!!
For these glitter & glam eggs, just spray them with spray mount (glue in a can) and then pass them through a bowl of glitter. Ready to rock! In contrast with the black chalkboard painted ones the combination becomes close to perfect!
Here an other example of the beautiful way to use the creative concrete (cement) and add a touch of gold to them.
Black sharpie doodles can be so creative and fun, as well as adding to this scandinavian style black and white home styling of yours! You might just as well reverse the whole idea, paint in black and then draw with a white permanent marker, which can give the perfect combination. Here 101 ideas to get started with.
Or you might be more into bright and colorful? This next ideas might be just what you have been looking for:
Dip dye the eggs in bright colors. The possibilities are endless!!!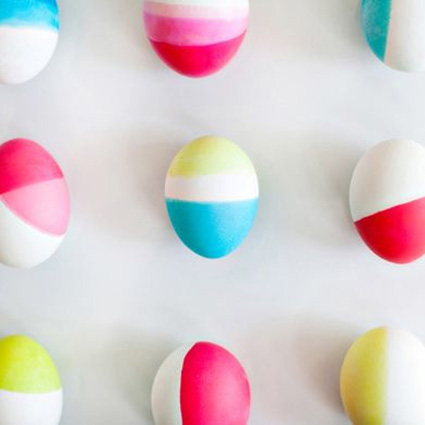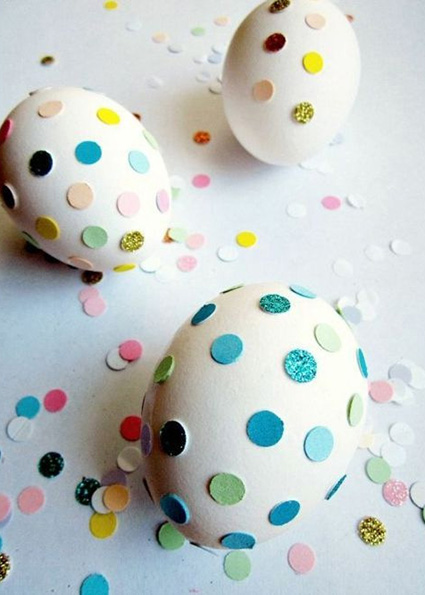 Hole punch some bright water color sheets your little wants have done, spray your eggs with spray mount and stick on these little handprinted multi color confetti! Not one will look the same!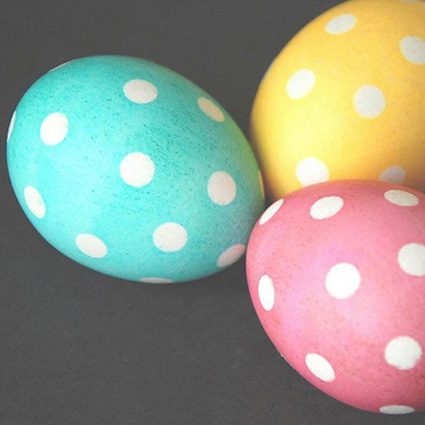 Paint the dots with a wax pen, then dye as standard eggs. The wax prevents the dye from fixing and will help your eggs to this cute polka dot pattern!
For more ideas and the links to the original authors of the images, pls click on each image or go to my pinterest folder HERE
And please send us photos if you decide to make them too. We would love to see!
Now go have an egg-straordinary day.